This was the first blog I'd ever published, originally written when we got back from our first trip to Iceland back in October 2017. Since then, I've learned a lot about photography (and realized this blog should be broken up and not so lengthy, haha)— but I decided to keep it just like I first wrote it… for mems sake. :')
If you're going to Iceland, I hope this helps in some way. That place holds a very special place in our hearts— so much that we went back in 2018. I'll be writing many more bite-sized blog posts about this country, but for now… here's the story of our first trip to Iceland—
Why We Chose Iceland
I've always been fascinated by how big the world is, and I've always had the desire to see it all. But so many years of dreaming about Paris, Italy, the pyramids, and lots of beautiful beaches… I never thought Iceland would be my first big international trip. It's become quite the trendy destination in the past few years, and the gorgeous photos all over Insta are just about all I needed to convince me the place is dreamy. But when WOW Air came to Pittsburgh (where we were living at the time), offering direct flights for cheap, I really started doing my research and fell in LOVE with the idea of this place.
Iceland was not only added to the bucket list, but moved to #1! After days of obsessing over it, the flights were BOOKED. Next came hours and HOURS and hours of planning. So much time and thought went into making this schedule after hearing so many times that the ring road is impossible to do and enjoy in this short of time. But y'all– WE DID IT and ENJOYED IT and didn't feel rushed. And so can you! So without further ado, below is what I believe to be the perfect itinerary for 6 (really 5.5) days in Iceland.  
GOOGLE MAPS: ICELAND ITINERARY
ICELAND DAY 1
Our flight left Pittsburgh at 6:45pm, lasted about 6 hours, and landed around 5am Iceland time. AKA, we better sleep on the plane or we're going to skip a night of sleep.  We rested the best we could, but between our excitement and the sweet talkative lady beside us, we didn't sleep much. Plus, we saw the northern lights during our flight so I was basically glued to the window the whole trip! When we landed, our adrenaline kept us afloat and we hit the ground running.
RENTAL CAR
We chose Lava Auto car rental, and they sent a guy to pick us up from the airport and take us to their office about 5 minutes away. We started to get worried when we landed and couldn't find our guy, but then he got there and everything went according to plan.
BREAKFAST
Since our plane was a bit early, we had more time than expected and debated on napping in the car. But our adrenaline decided against that, and we ended up driving out to Reykjavik for breakfast at Bergsson Mathus. In hindsight, it was too far out of the way, but we really enjoyed our breakfast so we weren't mad about it. Breakfast in Iceland was very yummy and well-rounded, but the food is expensive. You've been warned! Breakfast cost us $50 for 2….. yikes.
BLUE LAGOON
Next, we headed to the Blue Lagoon, a man-made geothermal pool dubbed one of the top 25 wonders of the world by National Geographic. The hot water is fed in by a nearby geothermal power plant, making it full of minerals like sulfur and silica. The bright blue color comes from the way the silica reflects sunlight.
PLAN AHEAD
Make sure to book your ticket beforehand! I recommend the options that comes with the towel, free drink, and algae mask (everyone gets a complimentary silica mask, so you'll get 2). I swear my face was so smooth for days after! Once you're all checked in, you shower off (they have private and communal showers) and head for the lagoon!
There's a small area between the showers and the pool if you want to meet up with your partner before diving in. It was very crowded, very cold and windy, and raining little ice pellets… but it was amazing nonetheless! The pool is larger than I expected, and after wading from end to end gathering our free drink and our face masks, we were getting kinda tired of such intense wind and rain hitting our face. The wind was whipping and the weather was horrendous, so we probably spent an hour or less before deciding to move on to our next adventure.
THE COZIEST LIL RESTAURANT
Our next stop was Fridheimar, a little restaurant inside a tomato greenhouse. They serve fresh tomato soup and homemade bread, which couldn't have sounded better to us given the FREEZING weather outside. (tip: make reservations!)
AIRBNB
We found the cutest little cabin on Airbnb and thought it was perfect for our first night abroad. However, we had a hard time finding the place back off the road, and we were starting to wear down quickly. We were so sleep deprived we felt drunk (hello jetlag), so we hit the sack around 6 or 7. 
Knowing we'd be jet lagged made it hard for me to plan our itinerary– I knew we'd be ready to hit the ground running, but I didn't know how long our battery would last. I wanted to cover as much ground as possible without overbooking ourselves– I didn't want to be too tired to enjoy anything! Looking back, I'm glad we made the decisions we did, and I'd recommend planning an early night for your first day.
ICELAND DAY 2
We had gotten a few groceries the day before, so we had mini spinach pizzas for breakfast and rolled out before the sun came up. Initially, we planned on visiting Seljalandsfoss Waterfall on Day 1, but we were running a little behind and jet lag hit us HARD so we cut the day 1 activity short. We would've had time on Day 2, but our map led us 20 minutes past the falls… womp womp. 🙁  Our schedule was packed and we didn't have time to turn around, but thankfully we ended up having time later in the trip to see it. 
SELJAVALLALAUG HOT SPRING
Our first stop was the Seljavallalaug Hot Spring Pool, one of the things I was most excited about! Seljavallalaug is one of Iceland's oldest pools, built to teach locals how to swim. It's nestled at the base of the Eyjafjallajökull volcano that most recently erupted in 2010. It's about a 10 minute walk to get there after you park, and you have to cross a small stream (there's a little makeshift bridge, but wear waterproof shoes, if you can, just in case).
Seljavallalaug was once a hidden treasure, but it's not so secret any more. There were a few other people there, but a large group walked up as we were leaving. I recommend getting there early to avoid crowds. My husband (Stephen) used the "pool house" to change and said it was pretty gross. Myself and another girl ended up changing back into our clothes outside, with the help of our men holding up towels for cover. I suggest wearing your swimsuit underneath your clothes so that it's one less time you have to change!
SELJAVALLALAUG HOT SPRING CONT.
This place is just as dreamy as it looks!  When I first saw the familiar white building poking out around the corner, I got butterflies. I felt like I was meeting a celebrity! The pool and the hike to get there is so freakin' beautiful. I will warn you, though… The pool is just luke warm at best. But I huddled up in the corner where the hot water flows in (conveniently located near the ladder) and tried to take it all in.  I felt pretty #blessed. There was a moment when everyone else left and it was just me, my man, and the beauty that surrounded us… that's the moments I live for.
BLACK SAND BEACH
Our next stop was Dyroholaey and Reynisfjara Beach (black sand beach). SO beautiful. Extremely powerful waves. Seriously WINDY (!!!)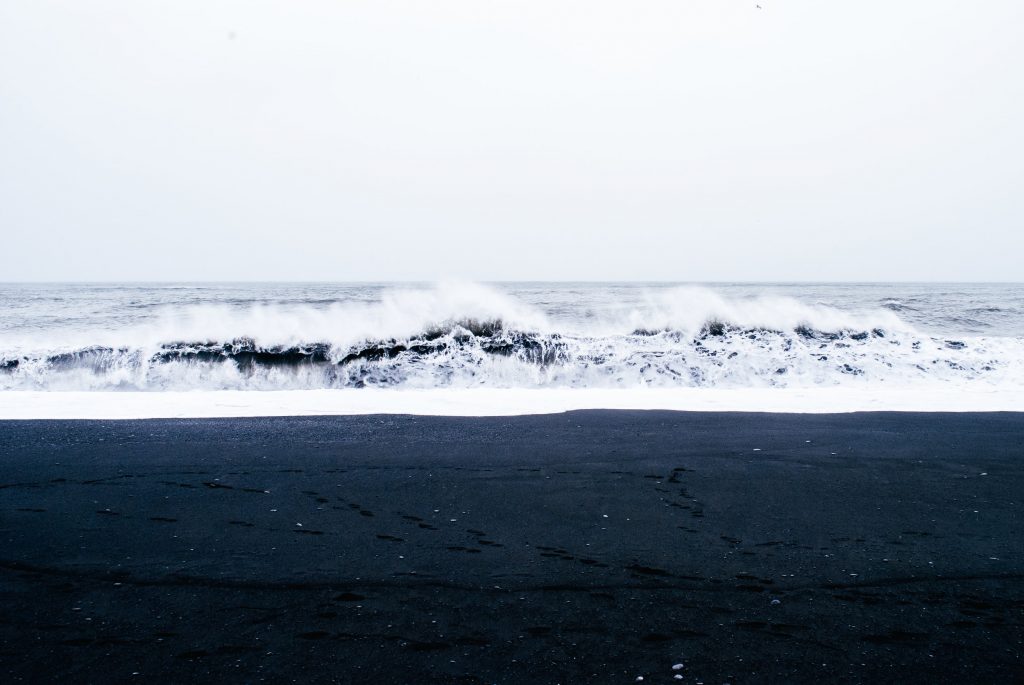 VIK
We left the moody beaches on a mission for food, and the cute coastal town of Vik saved the day! We stopped at the cozy Suður-Vík Restaurant for some arctic char and fish soup. Our meal was one of my favorites from the trip, and our hot chocolate we got to-go was AH-MAZING. I highly recommend this spot! 
OUR FAVORITE PLACE: Fjadrargljufur Canyon
Day 2 grand finale: Fjadrargljufur Canyon. This place, y'all…….. still trying to wrap my head around how something like this exists. I'm convinced it's where da gold at, where the fairies live, and where all forms of magic come from. I'm pretty sure when I'm 90 and I'm sifting through the golden years, this canyon is what I'll daydream about. If you see nothing else in Iceland, see this. 
We ate dinner and stayed at the Fosshotel Glacier Lagoon, a cozy, modern hotel right off the ring road. We thoroughly enjoyed our seafood soup, lamb with beets, and moss panna cotta at dinner. That night, we curled up beneath the signature yellow flannel with thankful smiles and fell asleep talking about the forever memories we made that day.
ICELAND DAY 3
GLACIER LAGOON & DIAMOND BEACH
After enjoying the huge breakfast spread at the hotel (make sure you try the Icelandic Skyr!), we headed out to the Jökulsárlón Glacier Lagoon. We drove over a little bridge that went across the glaciers and into a little gravel parking lot. All we could say was "wow." It was STUNNING! We walked up a small hill to get a different view, and we could've stayed there all day. If you have time, I recommend a boat tour. We had to cut this out of our itinerary, but I've heard it's awesome!
After the glaciers, we went just across the road to Diamond Beach, where there's huge chunks of ice everywhere! This place felt so different than anything we'd ever experienced before— it was mesmerizing. We ran around the ice, goofing off and laughing at each other, and then Stephen gave me a piggy back ride to the car to warm up!
DRONE OOPSIE
We had a long drive between the glaciers and Myvatn, heading north, so we decided to try stopping in Seyðisfjörðurm for lunch.. It's so gorgeous in Iceland, it's hard not to stop every 5 minutes to get out and take photos, but we reached one spot where there was a good place to pull off. We decided to fly the drone, and when there were no cars around, Stephen took it up. When it landed, it went straight into a spot that (we couldn't tell) was a puddle. Our GoPro wouldn't turn on… all black. We tried not to worry or let it ruin a single moment of our trip, but we were pretty upset about it since we REALLY needed it for snorkeling on the last day. We dried it the best we could, left it on the dash to dry on defrost, and started googling where to buy a GoPro in Iceland. (I found nowhere other than Reykjavik.) LUCKILY, after about an hour or two, the GoPro came back on, and we both felt pretty relieved! LOL @ Stephen pulling the drone out of the ditch, photo below.
OFF ROAD ON ACCIDENT
Back on our northward-bound journey, we reached a spot where our GPS took us off the ring road on a shortcut. The road didn't noticeably change at first, and you won't even notice it if you aren't paying attention. There was a beautiful lookout spot with a waterfall, then the road kept going up, UP, UP. It was SUPER foggy out, a little drizzly, no shoulder on the road, and it's barely big enough to be 2 lanes. Stephen's watch shows the barometric pressure, so we could tell we were getting pretty high up there, but we could hardly see 10 feet in front of us. We were in the clouds! It was SCARY to say the least. 
We made it out alive and a gorgeous hidden gem was there to greet us on our descent from the sky. No tourists to compete with. It was just us and this remote slice of heaven. We spent about 30 minutes admiring our surroundings, enjoying that feeling of no signal, the sound of running water, with no one in sight. That feeling made the stressful journey to get there so worth it.
Seyðisfjörðurm
We finally got to our "exit" toward Seyðisfjörðurm for a late lunch, and again… we started going up. Again, no guard rail. This time we COULD see over the cliff, and after our stressful drive earlier, my nerves couldn't take it. We got high enough that we started seeing snow, we still had a ways to go, and we decided it wasn't worth it. My stomach was doing flips looking over that edge and enough was enough. We ended up grabbing something quick from a gas station for lunch and continuing back on our route.
MYVATN
The drive from east Iceland toward Myvatn was so beautiful! I kept expecting to reach some boring stretches of road, but I don't think that exists in Iceland. The sun started to go down as we winded through the mountains. We attempted taking the drone up at this gorgeous lookout spot, but it was too windy.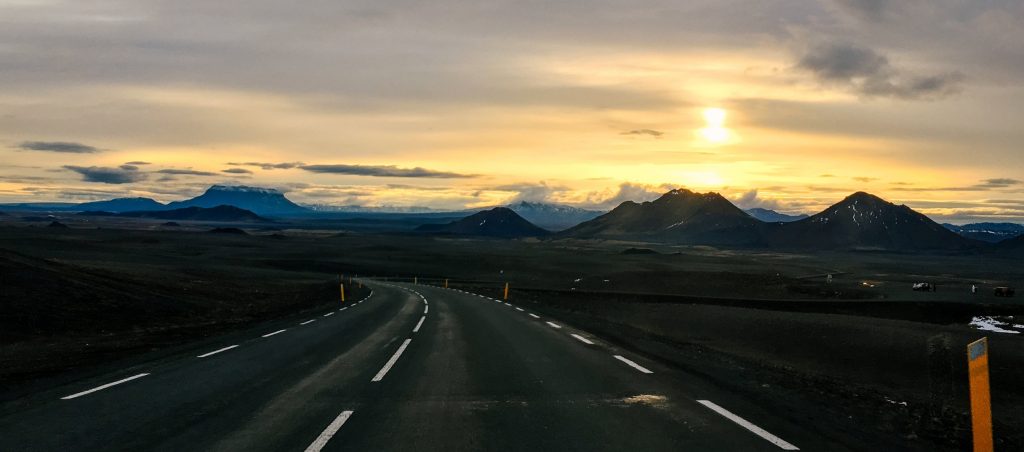 We ended day 3 at the Myvatn Nature Baths. I really didn't expect much, but the views were a welcomed surprise! It really felt like we were in an infinity pool in the middle of mountains. This place rivaled the Blue Lagoon. It's more of a chill vibe with less people, and definitely smaller than the Blue Lagoon. I really recommend doing both if you have time! You do have to use the communal shower naked beforehand at this one. There was 2-3 private showers, but they were always taken. If this makes you nervous, try to relax don't think too much about it. No one is watching you– it's actually freeing if you let it be. 🙂
We ate dinner at a little place called Gamli Bærinn, it had good ratings but I wouldn't recommend it. We saved some money in lodging by using Airbnb, rather than staying at the nearest hotel. It was a little out of the way, but it was worth it. The place was cute and just perfect for one night. It even had a hot tub!
ICELAND DAY 4
MARS
We had a quick breakfast with our groceries from day 1 and went to watch the sunrise over Námaskarð, a geothermal region where the ground is bubbly and it feels so much like Mars! It was fascinating! At first I was a little bummed with the lighting situation and grainy photos (sans tripod), but watching the smoke billow from the ground with the sun rising behind it was absolutely breathtaking. It ended up being some of my favorite photos from the trip. It really did feel like we were on a different planet! Plus, getting there early means avoiding the crowds!
All the attractions in this area were pretty close together. We stopped at the Krafla Power Plant (cool little alien homes), Viti Crater, and Grjotagja Cave (from a Game of Thrones scene) back to back. 
GODAFOSS WATERFALL
Our next stops were the Godafoss Waterfall and Iceland's 2nd biggest city, Akureyri. Standing on the rocks so close to the powerful, rushing water below us… it'll make ya feel like you're on top of the world.
Akureyri
We tried stopping in Akureyri to walk around, but the parking situation was weird and we had to find a bank or gas station to get a parking pass, so we ended up driving through and stopping at a little shopping center. When we stopped for lunch at this little mall, we had to ask for an English menu, and Stephen talked to the man about what the different Icelandic foods tasted like. I landed on fried fish and Stephen decided to try the whale, and he loved it! 
This was our long driving day, but with all the stops and CONSTANT amazing views, it never felt like we were in a car too long (which is something I was worried about). Finally, we saw some horses and a place to stop— I probably spent 45 minutes just hanging out with them! We jammed out (hey Ed Sheeran) and stopped for pictures and a little exploring here and there until we got to our dinner spot.
We planned to eat at Englendingavík, but when I called for reservations, I found out it was closed that day— so we ended up at The Settlement Center, which sounds touristy but it didn't feel that way at all. I had fish soup (again) and langoustine (lobster) pasta, and Stephen had…. coincidentally enough…. horse, an Icelandic delicacy. He felt pretty weird about it, but he loves trying new food and well, YOLO.
OUR FAVE HOTEL
We stayed at the Icelandair Hotel Hamar, which surpassed all of our expectations! Surrounding the hotel are beautiful mountains and sprawling hills, with a hot tub and sauna out back that felt so remote. There are doors leading outside in each room so that you have your own little patio and easy access to the hot tubs. If the hotel isn't full, they'll even give you a room in the back with the best view! It was unreal. I highly recommend this place!
ICELAND DAY 5
SILFRA
SILFRA!!! When I found this snorkeling spot on Pinterest, I fell in love with the idea! Inside Þingvellir National Park, the North American and Eurasian tectonic plates move apart 2cm per year, resulting in the silfra fissure. It's the only place in the world where you can dive between 2 continents! The water is so clear and blue, I actually had to tone down some of these photos a bit.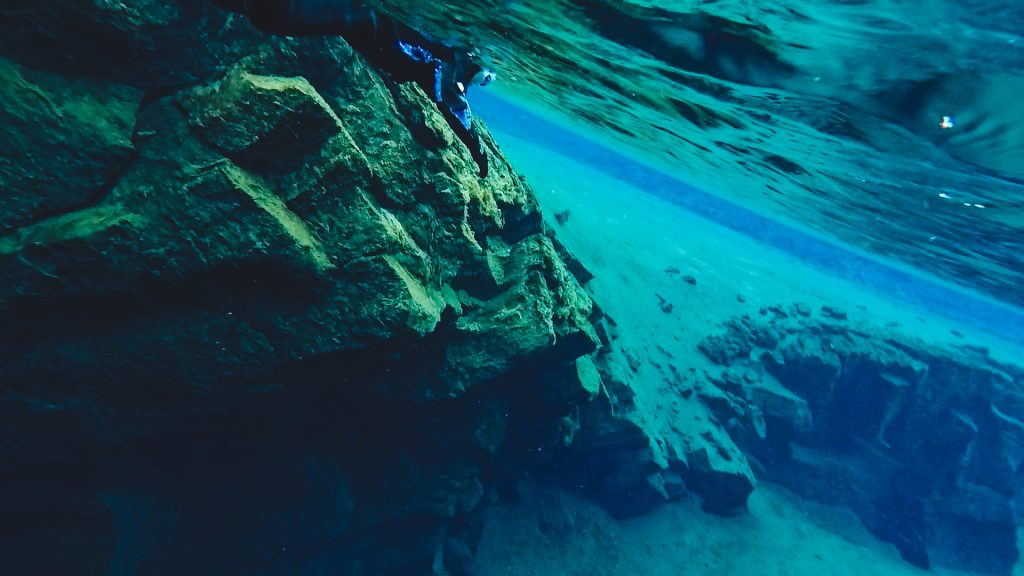 DIVE SILFRA
We used Dive Silfra, but dive.is seemed to be just as good. They give you a dry suit, so only your face and hair should get wet. The water is between 35-39º farenheit… so yeah, dry suit. Warning: it's super tight and hard to move around! Wear one light layer underneath, like thermals. Once you're in the water, everything else fades away. The only thing on my mind was how thankful I was to be in that place at that moment. It truly felt like a dream. I highly recommend it to anyone who visits Iceland! 
GOLDEN CIRCLE
Silfra is toward the beginning of the Golden Circle, a short route near Reykjavik that's popular for tourists, so we continued along the route and made a quick stop at the main attractions: a geysir and Gullfoss Waterfall. If you read much about Iceland, you'll see the Golden Circle EVERYWHERE. Honestly, if you don't do silfra, I wouldn't waste your time. Of course it's beautiful, but so is the rest of Iceland. If you have to pick and choose, I wouldn't make the Golden Circle a priority.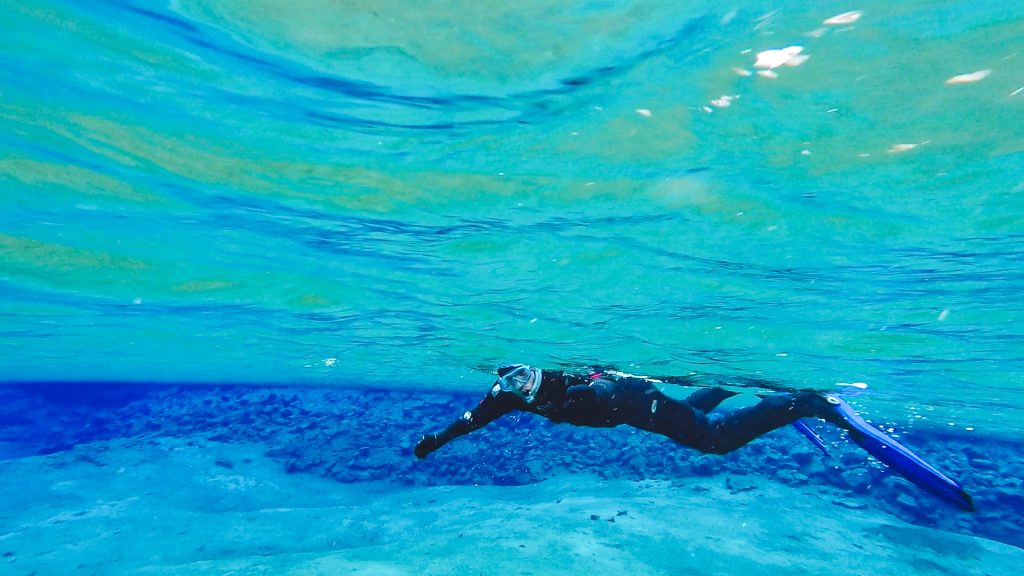 We went to Laugarvatn Fontana for lunch, a cool spot that bakes bread in the ground with natural steam. They also have hot pools that overlook a lake that seemed amazing!
Seljalandsfoss
We had some extra time and instead of going straight to our hotel in Reykjavik, we decided to back-track a little and go to the waterfall we missed on day 1. Seljalandsfoss is a super cool waterfall that you can walk behind. Beware: you will be soaked! There's a little shop there selling local things, and you can buy a poncho if you don't want your clothes getting drenched. It was pretty freakin' awesome to be so close to something so powerful! You can barely even hear with the thunderous sound of the water coming down around you.
We had dinner that night in Reykjavik at the beautiful Kex Hostel, right next to our hotel, Fosshotel Baron. They had small portions, but I really enjoyed my Smørrebrød with shredded pork, pickled cabbage and horseradish mayo. The atmosphere screams European to me: cozy, industrial, warehouse-esque. I wanted to take those floors as my souvenir. We held hands across the table, talking about all the memories we made over the past five days, our favorite spots, and where we wanted to go next. It's moments like this in that grungy adorable bar with my love that I'll remember forever.
ICELAND DAY 6
REYKJAVIK
The hotels can be a little bit expensive in Iceland, but most of them come with a huge breakfast (not a wimpy US continental breakfast) so it helps justify the cost. When we checked in the night before, the receptionist gave us a helpful map with the main streets for shopping and restaurants in the city center, which turned out to be close to the hotel. It's an older hotel but it was fine, and being centrally located was so convenient! We spent the morning wandering around Reykjavik, sight seeing, getting coffee and searching for souvenirs. Be sure to check out Hallgrimskirkjam Church, Harpa Concert Hall, Reykjavik Roasters, and Brauð & Co.!
I really recommend doing Reykjavik last. That way, you stay close to the airport at the end of the trip, and you aren't rushing to get there in case anything were to happen.
ON THE WAY OUT
Soon enough, it was time to check out, drop off the rental car, and catch a flight. We had Icelandic hotdogs at the airport, apparently they're known for that so don't miss it. 🙂 
Waiting on our flight was tough, we didn't want to leave this magical place that captured our hearts. WOW Air was great, and our pilot even did some tilts and turns so we could get a good view of Greenland!
We sat on the plane with thankful smiles, feeling completely fulfilled and accomplished… our love tanks full. This feeling is why I live to travel. We left a piece of our hearts i that cold, beautiful island– and I hope that when I'm old, I can say this was just the beginning. <3
EXTRAS
Here are some things you could do in place of something else or if you have more time:
Sólheimasandur Plane Crash, Hveragerði Hot Springs, see the smaller Fjallsarlon Glaciers, this gorgeous-looking hot pool, stop in Hofn or Djupivogur, Glacier Walking or Boat Tour, venture out to the Snæfellsnes Peninsula or Westfjords, or check out The Beer Spa
This is an awesome website that shows all the hotpots in Iceland! 
Most restaurants, even in the middle of nowhere, expect you to make reservations. I would call that morning to reserve a spot for dinner.
Don't tip! It's included, which helps given that the food is expensive.
For reference, my soups usually cost around $25. Fish may be around $30-35, and lamb or other meats around $40-60. It IS possible to find cheaper food, but we wanted to eat local things, not at gas stations.
Speaking of gas– it's also expensive. 
Be prepared for rain and wind, Iceland's weather can change very quickly.
We never needed króna, Icelandic money. There's not many (if any) places that don't take a credit card. Make sure your card doesn't have foreign transaction fees. Also, don't forget to check and see if you need to notify them of your travels beforehand.
You can do Iceland cheap and stay/drive in a camper without a bathroom, but I couldn't find an actual camper with a shower and bathroom for a reasonable cost. 
We used the AT&T International Day Pass. All you have to do is have them set it up on your account, and you're charged $10/day each day that you use your phone overseas. So easy! 
The best time to see the northern lights is Sept-Oct and Mar-Apr. We were bummed we never saw them on the ground, but at least we got a good view on the flight over! Some hotels offer a call list, where they will call your room if the lights are spotted.
I definitely recommend renting a car. In my opinion, it's the only way to do Iceland! The landscape is so beautiful and diverse, you'll be tempted to stop every 5 minutes– you don't wanna be stuck on a tour where you can't stop if you want to. We had a great experience with Lava Auto. We didn't get any extra insurance, but they will try to talk you into it.
One thing I was really conflicted about was whether or not we needed a 4WD car. I read everywhere that we should, but I knew our itinerary stayed pretty close to the ring road the whole time, so we took a risk and went the cheaper 2WD route. I'm glad we did! BUT, if you plan to go off course at all, I would definitely play it safe and get a 4WD.
ICELAND CLIFFNOTES
–DAY 1–

Do: Blue Lagoon 
Eat: Bergsson Mathus & Fridheimar 
Stay: This cute little Airbnb cabin
–DAY 2–

Do: Seljalandsfoss Waterfall, Seljavallalaug Hot Pool, Dyroholaey Beach and Lighthouse, Reynisfjara (Black Sand) Beach, Vik, Fjadrargljufur Canyon
Eat: Suður-Vík Restaurant
Stay + Eat: Fosshotel Glacier Lagoon
–DAY 3– 

Do: Jökulsárlón Glacier Lagoon, Diamond Beach, Myvatn Nature Baths
Eat: Gamli Bærinn
Stay: Airbnb
–DAY 4– 
Do: Namaskardh Geothermal Region, Krafla Power Plant, Viti Crater, Grjotagja Cave, Godafoss Waterfall, Akureyri
Stay: Icelandair Hotel Hamar
–DAY 5– 

Do: Snorkel the Silfra Fissure, Golden Circle
Eat: Laugervatn Fontana + Kex Hostel
Stay: Fosshotel Baron
–DAY 6– 
Do: Explore Reykjavik
Eat: Reykjavik Roasters + Hotdogs
Feel free to leave me any comments or ask any questions! Please share if you enjoyed this blog. <3